This is a guest blog written by 30-year-old Jade Partington, who recently engaged with us on our Bladder & Bowel UK Twitter account. Jade talks about self-catheterisation and the importance of reaching out to someone if you're living with a bladder problem.
I was born at 36 weeks, weighing 3lb 15oz, unable to walk until I was 2 years old. This was due to how small I was at birth. At a young age (around 3 years old) people used to comment that I smelt of urine. I was a bedwetter, which is something that still happens.
All through juniors' school I became conscious that I smelt of urine, and this became worse when I went to secondary school. I never told anyone, but I would steal sanitary towels from my mum when my own stock ran out.
I used to make sure I sat on a chair whenever I could during school assemblies, I had knee problems but I played on this so I didn't have to sit cross legged, and also I couldn't bear the thought of getting changed for PE (Physical Education) or doing sport which made leaking worse.
Talking to someone about incontinence
I waited until I was 18 years old to finally tell someone about my incontinence. It was my auntie. She was and still is unbelievably supportive. She advised me to seek medical attention as soon as I could.
Soon afterwards, I was sent to hospital to see a consultant and have tests done. The tests they did at the time didn't show anything. I had recently started smoking and would often have the odd cup of tea a day, which the consultant put down as the reasons I had been incontinent. I was distraught! It took so much for me to see someone about this.
A few years later, I went to see a different hospital and had other tests done. They couldn't find any reason why I was like this. So, I gave up.
In 2015 (age 25) I moved to a different area of the country, to live with my husband. We joined an amazing doctor's surgery. My GP is remarkable and truly wants the best treatment for his patients.
In 2018, my GP referred me to a brilliant bladder specialist, who said she would do whatever it takes to find out the reason I have been incontinent for all these years. I cried and we hugged.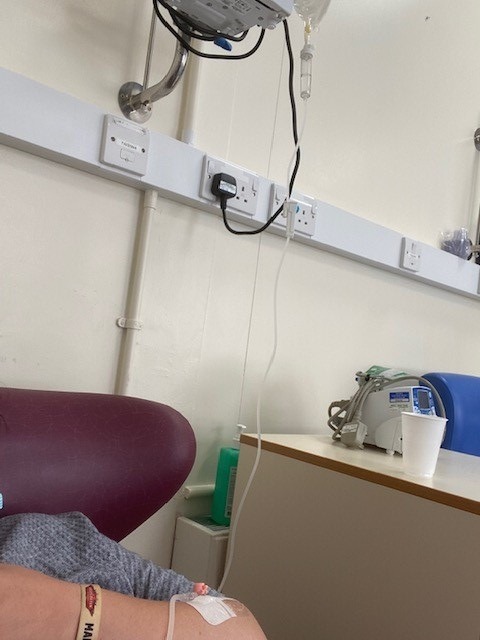 I went for urodynamics tests, had urine flow tests. I was then sent for a CT scan. During the CT scan they said they couldn't find my right ureter. After more tests they found that my bladder could hold 2000ml of urine and retain 1500ml of that. The reason they couldn't find my right ureter was because my bladder is so large (3x the normal adult size). It was hiding underneath. After 10 years, I finally had an answer.
Being Introduced to Self-Catheterisation
I was sent to a specialist hospital that deals with catheters; I was told I needed to self-catheterise 3 times a day. Unfortunately, I have Facet Joint Disease in my lower spine which makes self-catheterising very difficult.
On Thursday 14th May, after experiencing bouts of completely wetting myself and bad kidney pain, I was fitted with an indwelling catheter. It's been a strange few days, experiencing pain, and I've had to call the district nurses out to check on a few things, but I'm getting there. I may have some lasting damage to my kidneys because of time it took for diagnosis, so I'm waiting to have bloods done.
I've been extremely unwell since having my catheter fitted and it seems as though it may well have saved my life having it put in. I've been in and out of hospital with a rare condition called diabetes insipidus which they believe I have only by seeing my catheter and how much urine output I have. I may need to have a suprapubic one fitted.
I beg anyone who is going through a bladder problem to speak to someone: a friend, family member, medical experts. You really don't have to be alone, and it is more common than you realise.
Share Your Story With Bladder & Bowel UK.
If you would like to share a story about your bladder and/or bowel condition to feature on Bladder & Bowel UK's blog then please do get in touch via email: bbuk@disabledliving.co.uk