This is a guest blog by Nicola Stewart, author, speaker and advocate for parents and carers of children with complex needs and rare diseases.
About Gut Feeling
Gut Feeling is a new book, published in collaboration between Nicola Stewart and Evelina London Children's Hospital, it is set to provide insight for parents and carers of children with digestive disorders.
Eating is a basic thing we take for granted, but when you have a child with medical issues around digestion, it can become immensely complex.
I am the parent of such a child – Spike, now 10 – who was born four months prematurely. I came from a background of sports massage and had a good grasp of physiology, but I had to learn fast. Medical jargon can be bewildering, particularly when it's applied to your own child. Add in the anxieties of being a parent of a son or daughter in hospital, and it can be overwhelming.
The Meaning Behind Gut Feeling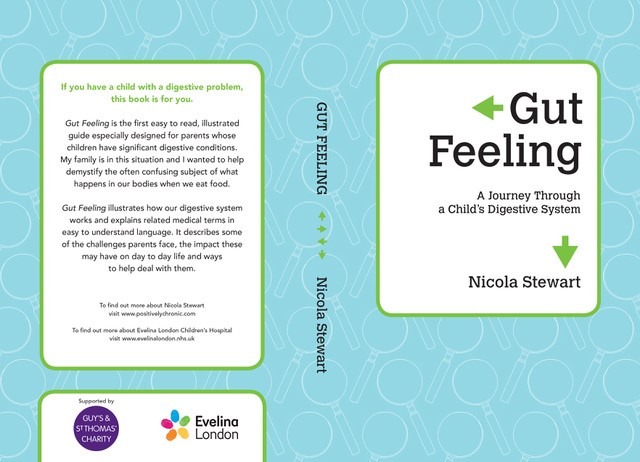 I wrote 'Gut Feeling' to take parents on a journey through the gastrointestinal system and navigate the complexity of medical jargon based on my family's struggle to understand our son's illness. From 'In', 'Along' and 'Out' the book follows food from ingestion to excretion. Each chapter explains how different parts of the digestive process work and then talks about what 'could go wrong'. It describes some of the challenges parents face, the impact these may have on day to day life and ways to help deal with them. There are 'fun facts to share with your child' and simplified descriptions of common disorders, procedures and treatments.
Recommendations
All sections are illustrated to help a family's understanding of the gut and engage a child more positively with what is happening inside them. This is a book I wished I had to help me to cope when we started on our journey. It is not a text book, I wanted it to be more fun, and I wanted to tell it from the perspective of personal experience.
"Gut Feeling will provide a bridge between children and their families on one side and the health care profession with their complex maze of medical terminology and jargon on the other side – when Nicola promised to write something exceptional she truly delivered."
– Dr Mohamed Mutalib, Consultant for Paediatric Gastroenterology, at the Evelina Hospital London
"Nicola has first-hand experience of trying to understand the complexities of the digestive system to support her own son in his medical journey. She was only too aware of the very limited information available for parents and families, and has created this exceptional resource to support and empower families and improve their experiences of medical care."
– Melinda Edwards, MBE Consultant Clinical Psychologist at the Evelina Hospital London
Learn More About Nicola
Visit Nicola's website: https://www.nicolastewart.com/ or get in touch with her by emailing: nicolastewart@me.com