---
Transanal irrigation (TAI) is a management option for people who suffer from constipation. Here, we look at best practice for those who are using TAI for constipation to make sure it is as safe, comfortable and effective as possible. Remember, it is always best to discuss the issue and any treatment with your doctor.
---
How do I get the best results from transanal irrigation?
Before commencing irrigation, it is advisable to familiarise yourself with your irrigation system.
Following the provided instructions for use, assemble the product, fill with water and pump
through the system.
It can take a little time to get used to irrigating, and for the bowel to become accustomed to the
procedure. It may take 2–4 weeks to get into a well-practiced routine. It is important to irrigate at a
similar time each day and to allow yourself enough time to complete the procedure thoroughly.
The process takes approximately 20-35 minutes and should be performed regularly (usually every 24 or 48 hours) to achieve the best results.
For those with reduced, or no bowel/rectal sensation, it is advisable to stay close to the toilet
post-irrigation, until you have a routine that works well for you. It is a good idea to use a disposable absorbent pad immediately after performing irrigation.
You can repeat the irrigation process if required. If you are unable to feel the urge to open your bowels, then you can use measured of amounts of water to achieve the right volume for you. It is best that you speak to your clinician to discuss what is right for you.
As irrigation cleans the lower portion of the large intestine it can help to:
Reduce the risk of constipation by preventing the build up of stools
Reduce the risk of faecal incontinence and leakage in-between each evacuation
Regain control over your bowel management
Reduce the amount of time spent on your bowel care
---
This article is part of the Education Spotlight on Constipation, supported by Renew Medical. You can also read more about constipation in our information library here.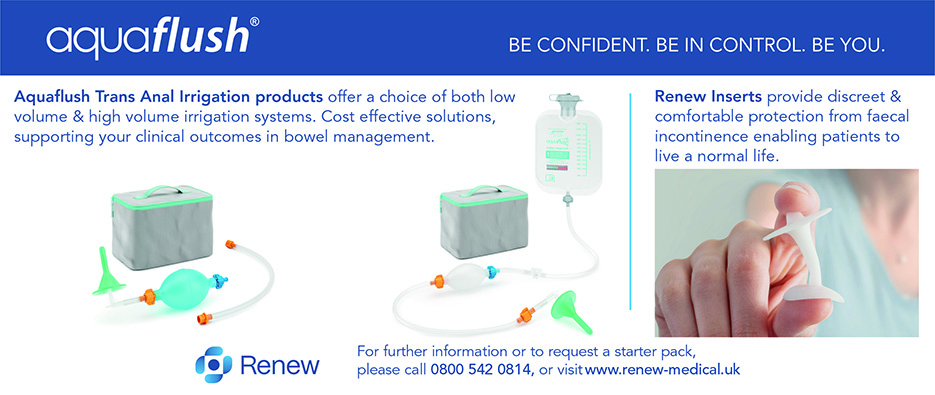 ---