Bladder & Bowel UK are delighted to be the winner of the Continence Promotion and Care Category at the Nursing Times Awards in partnership with ERIC, The Children's Bowel and Bladder Charity. Davina Richardson, BBUK's Children's Continence Nurse, was the clinical lead on the project which was recognised for this prestigious award.
2020 has been a memorable year for us all in many ways. The pandemic has made its mark on individuals, healthcare and world history and has changed so much that we had taken for granted. However, 2020 has not just been about Covid-19. 2020 was named as the first International Year of the Nurse and Midwife by the World Health Organisation, in recognition of the 200th anniversary of the birth of Florence Nightingale. It was intended as a celebration of the skills, expertise, commitment and contribution of nurses and midwives across the globe and as an acknowledgement that all of us have contact with nurses or nursing at some point in our lives.
Many aspects of nursing today would be unrecognisable to Florence Nightingale, although some of her precepts and the principles of basic nursing care remain paramount. This includes the skills, activities and interventions that ensure the comfort, dignity, safety and wellbeing of those we work with. What has changed is the technology, the diversity of specialities, the levels of specialisation and expertise and the range of environments where nurses are to be found. These include hospital, community, prisons, educational establishments, armed forces, research, policy making, and charitable organisations, to name but a few.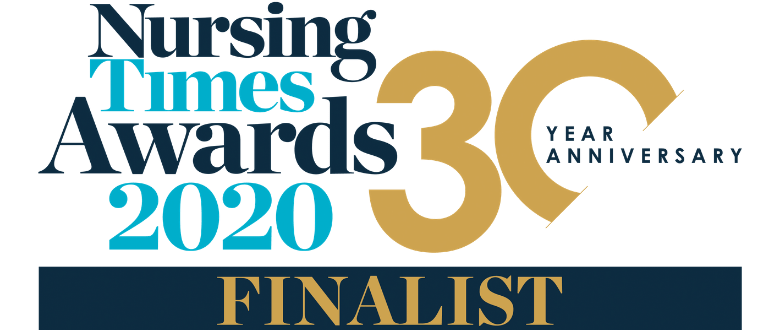 NTA 2020 Finalists
Thirty years ago, the Nursing Times launched their awards to celebrate achievements in nursing. The presentation ceremony is usually a glittering black-tie event, on an October evening at a smart London venue. It is an opportunity to relax, enjoy, celebrate and network with colleagues. The Nursing Times Awards for 2020 were as special as ever, although they looked somewhat different to preceding years. Judging was undertaken remotely and the presentation ceremony was virtual. Rather than starting with a reception and dinner, the Awards were introduced with a video that included the names of the qualified nurses that have died from Covid-19.
The poignant and moving acknowledgment of those who have given everything in the care of others was an appropriate start to the celebrations. They will be remembered, not just by their friends and families, but by all who have contributed or benefited so much from healthcare this year.
The awards are about the celebration of nurses and nursing across the spectrum of roles and healthcare. There are twenty-three diverse categories, from nurse leader of the year and lifetime achievement awards to the care of older people, enhancing patient dignity and many others. This year the team from Bladder & Bowel UK submitted two different projects for consideration. Work done with the group Positive About Down Syndrome, supporting toilet training for children during lockdown which was titled 'Empowering parents via social media.' This was entered into four categories: Children's Services, Continence Promotion and Care, Learning Disabilities Nursing and Promoting Patient Self-Management. To the delight of both organisations, the project was a finalist in all four awards.
The second project, was entered into the Nursing Times Awards by Bladder & Bowel UK in conjunction with ERIC, The Children's Bowel and Bladder Charity. It was entered into two awards and was a finalist in the Children's Services category but was the winner of the 2020 Continence Promotion and Care award.
The project, 'Help at school – a partnership approach to providing guidance and practical support', was culminated in the publication of national guidance to assist educational establishments to understand bladder and bowel issues experienced by children and young people, so that they would understand how best to support affected learners. The guidance document includes information about how children develop continence, how to promote bladder and bowel health, how to safeguard children's wellbeing, the role of care plans, sample intimate care policies and a sample care plan as well as legislation relevant to the different countries of the UK and a glossary of terms.
The team at Bladder & Bowel UK are delighted that their work and that of ERIC, The Children's Bowel and Bladder Charity, has been recognised by the Nursing Times Awards in this way. The project developed as a result of numerous calls to the charities helplines from families and school staff struggling to understand issues and arrange support for children and young people with bladder and bowel issues in nurseries, schools and colleges. Research has demonstrated what the teams at Bladder & Bowel UK and ERIC, The Children's Bowel and Bladder Charity, already knew: that those with bladder and bowel health issues often experience anxiety about bullying, social isolation and stigma, as well as about disclosing their condition to teachers. It is hoped that this work will help reduce the negative consequences of having a bladder or bowel problem for children and young people.
'Managing Bladder and Bowel Issues in Nurseries, Schools and Colleges Guidance for school leaders, proprietors, governors, staff and practitioners' (October 2019) is available to download and print at: https://www.bbuk.org.uk/wp-content/uploads/2020/01/Managing-Continence-Problems-in-Schools-2019.pdf. Other relevant documents including a word version of a sample care plan and intimate care policy that may be amended to reflect educational establishment or individuals needs are available at: https://www.bbuk.org.uk/schools-resources/
Bladder & Bowel UK have lots of information and resources on our website at www.bbuk.org.uk to support people of all ages with bladder and or bowel difficulties. These are all free to download and print.
Bladder & Bowel UK also have a confidential helpline staffed by children and adult nurses who are specialists in bladder and bowel care. You can contact them by email at bbuk@disabledliving.co.uk or by telephone on 0161 214 4591.