It is important that those with continence (bladder and/or bowel) problems or those who care for them, have access to professional help and advice and are signposted to their local services.
Many continence problems are treatable. However, it may be that following a full assessment, alternative solutions for promoting and managing continence are identified as being required.  For some people and for a variety of reasons, it may not be possible to fully treat or cure incontinence and they may need products, appliances/devices or practical help to promote and maintain continence.
There are a number of health care professionals who will be able to advise you; these may include your GP, district nurse, specialist continence, bladder/bowel/urology nurse, occupational therapist or physiotherapist. Alternatively you can contact us at Bladder & Bowel UK and we can signpost you to your local service.
It is encouraging to know that there are a large variety of products, devices and appliances available. No single product will suit everyone's needs and it is not uncommon for people to use a combination of products e.g. containment pads along with aids to assist with toileting.  It's a case of finding what best suits an individual's needs.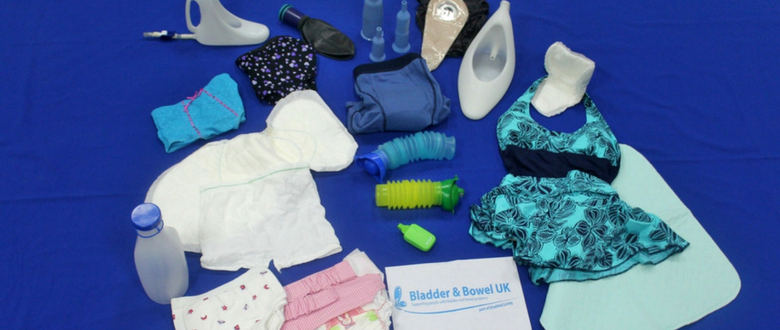 Examples of the types of products available include:
Alarms
Bedding and chair protection
Bowel irrigation devices
Bowel/faecal leakage management devices
Catheters
Disposable pads
Drainage bags
Female devices
Male devices including urinary sheaths and body worn appliances
Odour control
Pelvic floor equipment
Swimwear
Toilets and commodes
Urinals (male and female, hand held)
Washable pads and pants
Visit the Bladder & Bowel UK website and the supplier directory for further information on products that are available. This directory has been created at the request of people who use Bladder and Bowel UK and other Disabled Living services, (which Bladder and Bowel UK are an integral part of) as a resource, providing impartial and unbiased information relating to continence products, other services, and equipment.
If there is something you are specifically searching for and unable to find please contact us via email at bbuk@disabledliving.co.uk or on our helpline: 0161 214 4591.