This blog post has been written by Karen Irwin, Service Manager/Specialist Nurse at Bladder & Bowel UK.
It was wonderful to see so many healthcare professionals attending this year's annual Bladder & Bowel UK Symposium, which is held at the Bolton Arena. This year's conference attracted over 160 delegates, who despite some adverse weather conditions, travelled from all over the UK.
The conference enables us to welcome both new and regular attending delegates, providing all with an opportunity to participate in valuable networking attend lectures and view the extensive exhibition, updating our clinical knowledge on continence, bladder and bowel products and information.
Specialist nurse – This event has enabled me to gain greater knowledge  and understanding on continence topics.
For those of you who have never attended the symposium, it may be of use to know what it's all about, who attends the event, and what's on offer if you decide to come along next year.
Who attends our national Symposium?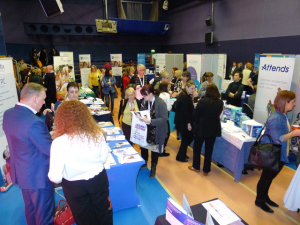 Firstly, all the Bladder & Bowel UK team attend the event, we always look forward to catching up with everyone from delegates and exhibitors to update you of what's happening with us, not only at Bladder & Bowel UK, but also across the other wider services our charity Disabled Living provide.
Physiotherapist – It helps me expand my knowledge and keep up to date on latest products.
Healthcare professionals come from a variety of backgrounds including nursing, specialist nursing services, Physiotherapy, Occupational Therapy, Scientists, Pharmacists and Doctors.
The Symposium hosts three, concurrent educational streams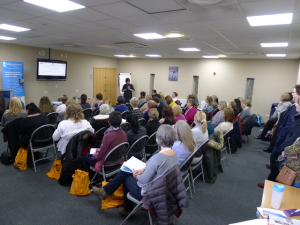 These are: Adult Bladder, Adult Bowel, and Children and Young People Bladder and Bowel.  Lectures cover a wide range of clinical / patient experience /project presentations to name but a few.  Delegates are able to choose to attend any of the lectures, with speakers in attendance from both local and national experts in this specialist field.
Lectures this year included Male Lower Tract Symptoms and Prostate Cancer, The Modern Management of Pelvic Floor Dysfunction, Nocturnal Enuresis, Managing the Difficultly to Treat Children, Poo passport, The Challenges of Promoting and Maintaining Continence in the Older Age Population… It's not always hi tech.
Medicines management lead pharmacist – The day has helped me improve my understanding of bladder and bowel care and understand services better.
Other lectures included: Digital Rectal Examination and Assessment, Daytime Wetting, Complexities of ISC, Multicultural Society and the Practicalities, The Role of Biofeedback in Bowel/Pelvic Floor Dysfunction, IBD in Younger People and The Law and the Nurse. We always welcome feedback and suggestions for future conference and events, after all this day are for you and your continued professional development.
The exhibition is a hive of activity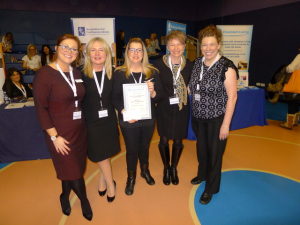 It enables delegates to network and chat with a variety of exhibitors, who were on hand, to update clinicians on products that are available to people with bladder and bowel problems.  The exhibition also has other bladder and bowel charity representation, along with professional organisation representation. Lunch break also provides us valuable networking time with colleagues.
Bladder & Bowel UK also have an annual Bowel Care Award sponsored by Coloplast. The winner is announced on the day and is also programmed to speak at the conference, sharing the work they have received recognition for. Entrants are submitted from all over the country from a wide range of Adult, Children and Young Peoples Services. It's always super to see the wonderful work/projects that are submitted, informing what's currently happening in practice, all which have a key aim of improving patient care.
All in all, it was a super day that evaluated well. Next year's Symposium is taking place on Wednesday 6th March 2019. Click here for more information. We hope to see you next year.