Our annual Paediatric Education Day, one of the highlights of our calendar, was held at Redbank House Manchester on 16th October.  It was fully booked several weeks in advance again this year, with over 60 professionals attending from across the country. We were also well supported by our company colleagues, who provided a diverse exhibition covering a wide range of continence related products.  Break times were busy with delegates networking and discussing items being exhibited.
The day was as full as usual
The first talk of the day came from June Rogers, who delivered an in depth session on constipation, covering the complexity of the problem, diagnosis, slow transit, toilet refusal, pelvic physiotherapy and TENS. Dr Carol Joinson from Bristol University then gave a very engaging presentation from her research on the role of psychological factors in paediatric continence problems. She stimulated lively discussion and suggestions for further research. The consensus from delegates was that this a particularly interesting session.
The afternoon sessions started with consideration of how to work with schools to engage support for children with continence problems and included issues to consider as well as how to access and employ guidance from the Department for Education to ensure that children's needs are met.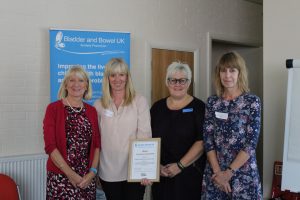 Vicky Hartley from Sussex NHS Community Foundation Trust was the winner of the inaugural Enuresis Award and described how her service had significantly reduced waiting times, improved access to care and NICE compliance and reduced nurse workload and financial costs through provision of a single-patient use enuresis alarms. The day was rounded off by June who talked about the use of facts and figures to support service development.
The day once again received excellent evaluation
We would like to extend congratulations to the worthy winners of the Enuresis Award and our thanks to our speakers, company colleagues and all the delegates who made together made this such a successful event.
Next year's Paediatric Education Day will be on Thursday 17th October 2019 and we would strongly recommend booking early to avoid disappointment. More information please visit the event page.