Find out how to knit a demonstration colon with our step by step guide. The knitted demonstration colon is a great way to visually display bowel movement. It can be used to explain or demonstrate some of the following:  
Peristalsis and Hirschsprung's

 

Stretch receptors and bowel sensation

 

Ano

rectal sling/ knees up position on the toilet to

optimi

s

e

emptying

 

Re-absorption of water/ action of Macrogols

 

Constipation and overflow poo/soiling

 

Sampling section in lower rectum

 

Pressure exerted by constipated stool, on the bladder (show partly inflated balloon next to it)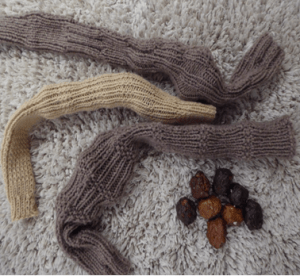 The knitted demonstration colon and poo.
How to knit the colon
To knit the colon, you will need the following equipment:
Yarn
Use approx. 50g of DK or Aran weight. 
Knitting needles
2 x 3.5mm and 4mm for DK yarn
2 x 4mm and 4.5mm for Aran weight yarn 
Instructions:
1) Use smaller needles and cast on 30 stitches. Work in K1/P1 Rib for about 3cm. 
2) Change to thicker needles and either continue on K1/P1 rib or any combination of rib stitches or moss stitch. Change the stitch every 10 cm for about 50-60cms.  
3) Change back to slimmer needles and rib for a further 3cm, then cast off. Over–sew the two long edges together to create a tube.    
Note: If using Aran Yarn, use the steps above, but casting on 32 stitches and continuing as above. 
How to make the poo

 
These are to go inside of the colon. Follow these steps to make the paper mâché poo that goes inside the knitted bowel. 
1) Take about 20 A4 sheets of paper, official letters or bills are best (not shiny paper), and tear into strips.  
2) Put in a bowl, cover with hot water and leave to soak for at least 24 hours. 
3) Drain off water, mould and squeeze the soggy paper- using your hands, into pieces about the size of walnuts in shells.  
4) Place on a tray and leave in a warm place for a few days until they feel dry.  mould
5) Paint with acrylic paint in the colour of your choice.  
6) Use a clear varnish coat once paint is dry. This protects them from damage and helps them to slide more easily, so can be omitted.  
7) Allow to fully dry. 
Use 8-10 lumps of poo in the bowel. Softer poo can be made using felting techniques, but it is easier to use paper mâché. 
---
If you are looking for some support or are experiencing bladder or bowel problems, then please contact our free, confidential helpline today. Our team of Specialist Nurses and Continence Product staff will be on hand to speak to you about specialist services, product information and give general advice on continence.