It is not uncommon to hear a nurse say, "we are just doing our job".
Nurses work across many different areas. They provide healthcare services, monitor and support patient progress, educate patients, their families, carers and others regarding their health condition as well as providing day-to-day care.
It is important to also acknowledge that many nurses also work with people in good health. This includes promoting healthy lifestyle choices, independent living and providing individuals with actionable advice on how to live longer and healthier lives.
Today marks my 34th year working in this wonderful profession – nursing. A career path that I chose from being 5 years old. Honestly, I've never given a thought of doing anything else really.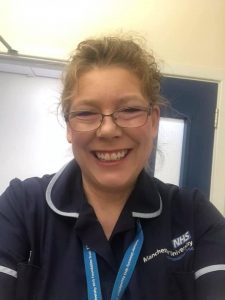 Looking back over the years
Over the years, I have had wonderful opportunities in my career. These include working in different settings, looking after people, meeting many people and being welcomed into people's lives, across hospitals, the community, as a district nursing sister and continence, as well as being a bladder and a bowel specialist nurse.
In more recent years, I moved to the third sector. I now have a combined role, working for a national service (Bladder & Bowel UK) within the wider charity, Disabled Living. I am also continuing my bladder and bowel NHS practice alongside this.
When I arrived as a young lass in Canterbury during the 80's, I met with a group of like -minded people. All of us were eagerly anticipating the start of learning and becoming a nurse. We trained in small groups back then, with a maximum 10 -15 in a set. During this time, we completed our training under the watchful eye of our matrons and mentors.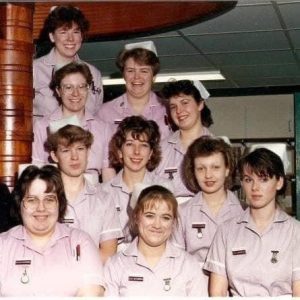 We all remain firm, close friends to this day, sharing the joys and sometimes sadness, life brings us all over the years. All of us have taken different paths, which include palliative care, practice nursing, specialist nursing, midwifery, management and Hospital Chaplin. However, we all remain firm in our commitment to continue what we love doing – in whatever setting we are working. So, here's a "Happy Birthday" to the Set of 86 and in the words of one of the most famous nurses:
No matter how difficult the days may get, never forget the reason you became a nurse. – Florence Nightingale
Written by Karen Irwin, Specialist Nurse / Service Manager at Bladder & Bowel UK.