Enuresis Update
Email us to Subscribe
Please state whether you would like to receive the Enuresis Update, professional newsletter, or our public Talk About… newsletter.
Enuresis Update Autumn 2020 Edition
Click here to read the online version
Click here to read the PDF version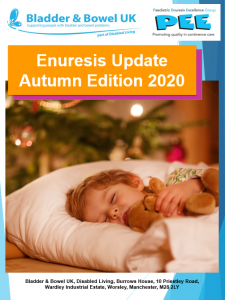 Enuresis Update Spring 2020 Edition
Click here to read the full screen version
More Information and How to Subscribe
For more information please visit our Adults Resources and Children Resources webpages. You can sign up to our newsletters and request PDF copies via email: bbuk@disabledliving.co.uk. We also publish a bi-monthly newsletter for healthcare professionals and a Talk About… Newsletter for people with bladder and bowel problems. Please just ask, if you would like to be added to our mailing list.